Compound Plates
A.S.S. compound plates by DETLOFF are a combination of a carrier material made of steel and a hard layer rich in carbide, which is applied by means of our special welding procedure.

The high proportion of carbide (mainly Cr-carbide as well as – depending on the type – special carbides and borides) is responsible for the extreme wear resistance of the material.

The compounds used in surfacing can be optimally adjusted to customer's requirements as the alloying additions can be added in form of a powder directly to the weaving arc.

Our alloys conform to DIN 8555 group 10.

Our procedure guarantees very low blending between the carrier material (also called base material) and the surfacing.

Thus, the transition zone between carrier and layer features a high proportion of carbide, too.

Depending on the type of alloy, surface structures and crack formation vary marginally. Cracks are typical for our sandwich panels. The cracks – generated by stress relief – are guarantor for an immaculate bond between the carrier material (base plate) and the hard coating.

Layers thickness varies between 3 and more than 10 mm.

The plates are manufactured with a thickness of 5+3 mm (carrier material 5mm, hard layer 3mm) and up to a size of 2x3 m.

Standard sizes are:
Small fomat: base plate 1000X2000; coating 900X1850
Medium fomat: base plate 1250X2500; coating 1100X2350
Large fomat: base plate 1500X3000; coating 1250X2800
They can be processed using plasma or jet cutting.

Warping by means of rolling, folding or canting.

Fastening by welding or bolting.

Fixing holes are manufactured using welded elements. Alternatively, fastening bolts can be welded on the reverse side.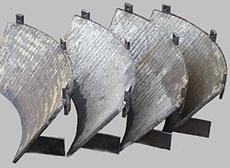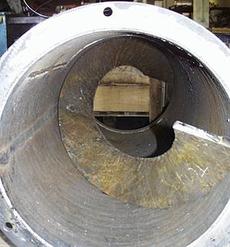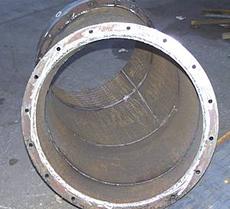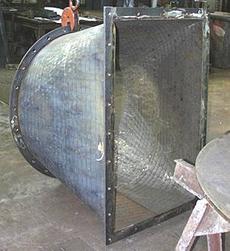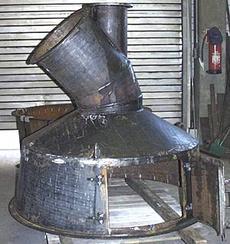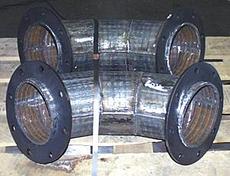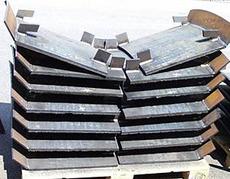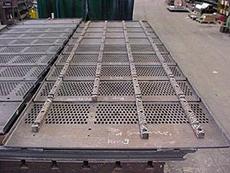 Contact
Trough cooperation we will light up the best solutions.
Kindly report to us, which requirements you have. We look forward to your emaill. Gladly we advise you in a no-obligation consultation.