Tungsten Carbide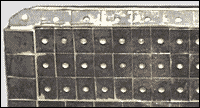 Tungsten carbide hard metal offers excellent wear protection in the area of plant engineering and machine construction.
The type of hard metal used is chosen according to the conditions to which a part is subjected.
To be used in adverse application conditions such as:
Strong abrasion
Chemical abrasion
Strain of impact or edge stress
We supply:
Compact, fully finished machine parts made of hard metal and accurate to size.
Parts with soldered, bonded or mechanically fixed wear protection made of hard metal.
The cutting, separating or processing of surfaces can only be effected using diamond tools.
Contact
Trough cooperation we will light up the best solutions.
Kindly report to us, which requirements you have. We look forward to your emaill. Gladly we advise you in a no-obligation consultation.