Polyurethane PUR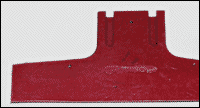 Polyurethane is a compact and elastic elastomer.
Formed components are usually manufactured by depressurised casting in open metallic moulds. According to the production requirements of the finished part, armouring or stiffening made of metal can be inserted.
Precipitation is effected by heat. After the component has been cast and removed, it is tempered in a thermal chamber ensuring the component's usage properties.
Properties
Good elasticity with high structural cohesiveness. The e-module is nearly twice as high as with rubber. The working temperature lies in between -40°C and + 80°C, temporarily also up to ca. + 110°C.
Resistance against
Alcohol
Ether
Glycol
Mineral oils and fats
Aromatic hydrocarbons
Unstable with
Chlorinated hydrocarbons
Ester
Ketones
Bases and acids > 3%
Material particulars:
Hardness: ShoreA 65 - 95
Density ca: g/cm3 1,20
Tensile strength: N/mm² 25 - 40
Elongation at break ca: % 350 - 500
Elasticity at thrust: % 35-45
Contact
Trough cooperation we will light up the best solutions.
Kindly report to us, which requirements you have. We look forward to your emaill. Gladly we advise you in a no-obligation consultation.