Oxide Ceramics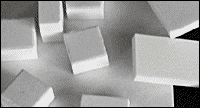 Oxide ceramics is an ideal material for wear protection in the area of plant engineering and machine construction.
To be used in adverse application conditions such as:
Strong abrasion
Chemical abrasion
High temperatures
We craft fully finished, accurate to size machine parts from Al2O3 and ZrO2 oxide ceramics.
We supply standard admeasurements made of Al2O3 oxide ceramics:
Mosaic mats ca. 500X500 mm (also available with durex reverse)
Thickness: 4, 6 and 10 mm
The form of the individual tesseras is either
Hexagon SW 20 or SW 32
Square 20X20 or 10X10
Segments
Thickness: 17, 20 and 25 mm
Square 100X100
Rectangle 50X100 / 100X150 / 150X200 / 114X230
Segments or mats are fastened by bonding.
The cutting, separating or processing of surfaces can only be effected using diamond tools.
Polymeric Ceramics
EPO-CER is cast polymeric ceramics.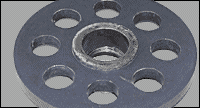 The main components are extremely hard particles made of SiC. Similar to EPO-SiC, they add very good wear properties to compact cast parts.
The great advantage of EPO-CER is due to the potentiality of infusing metal or other armouring materials.
Thus, pillow blocks, bearing surfaces etc. may already be defined in the core. An elaborate treatment (only sanding is possible) is consequently omitted.
Components made of EPO-CER are an economic alternative in places, where wear due to sliding actions (also in conjunction with chemical abrasion) causes excessive damages and other ceramic solutions are unfeasible.
The maximal working temperature should not exceed 130°C.
The main area of usage so far have been pump components.
EPO-SIC wear protection to be primed
EPO-SIC is a type of polymer ceramics developed by us, which - to ward off frictional mineral wear - is smoothed directly onto the areas under strain.
The extreme hardness of the embedded ceramic main components (SiC)* guarantee an excellent durability against wear due to sliding action.
The main advantage is, that the component can be finished in advance, as the EPO-SIC coating is effected at room temperature and thus causes no delay.
EPO-SIC is also extremely suitable for repairs of worn component surfaces.
The maximal working temperature is ca. 120°C.
Main areas of application are:
Linings and repair coatings in brick work machinery, pump bodies, ventilators, hydrocyclones, pneumatic and hydraulic conveyors.
EPO-SIC is cost effective, wear resistant surface coating!
Contact
Trough cooperation we will light up the best solutions.
Kindly report to us, which requirements you have. We look forward to your emaill. Gladly we advise you in a no-obligation consultation.